Vigil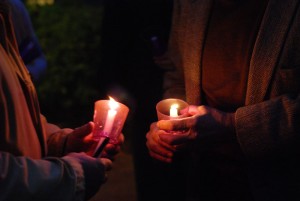 A Safe Place commemorates those individuals who have lost their lives to domestic violence with an annual vigil. This event is open to the public and includes lighting a candle for the victims, reading their names aloud, and celebrating their lives. This event honors those lost as well as bringing attention to the growing number of deaths caused by domestic violence. Everyone is welcome and encouraged to join with A Safe Place to hold vigil. In this way, we stand together as a community acknowledging that domestic violence exists everywhere, and that it is not acceptable to us.
Silent Witness Project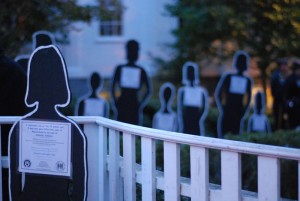 One out of every four adult women are victims of domestic violence at some point during their lifetimes. Domestic violence affects both men and women; it affects people of all ages, races, religions, cultures, sexual orientations, genders, educational backgrounds and incomes. Domestic violence affects our home lives, schools and workplaces.
A Safe Place positions life-size wooden figures around Nantucket to make people aware of this growing problem. Even in our own community over the last few years, hotline calls, after-hours crisis responses and individuals seeking support have doubled. We hope that our "Silent Witness" figures will help educate the community about this serious issue and inspire change as we observe Domestic Violence Awareness Month in October.