A Safe Place's 8th annual Walk a Mile for A Safe Place on October 2nd, 2021 fell on a beautiful Nantucket day. We would like to thank all those that participated and supported the walk and our agency. Thanks to all of the donors and sponsors who make it possible to offer all of our services free of charge to survivors who experience domestic or sexual violence.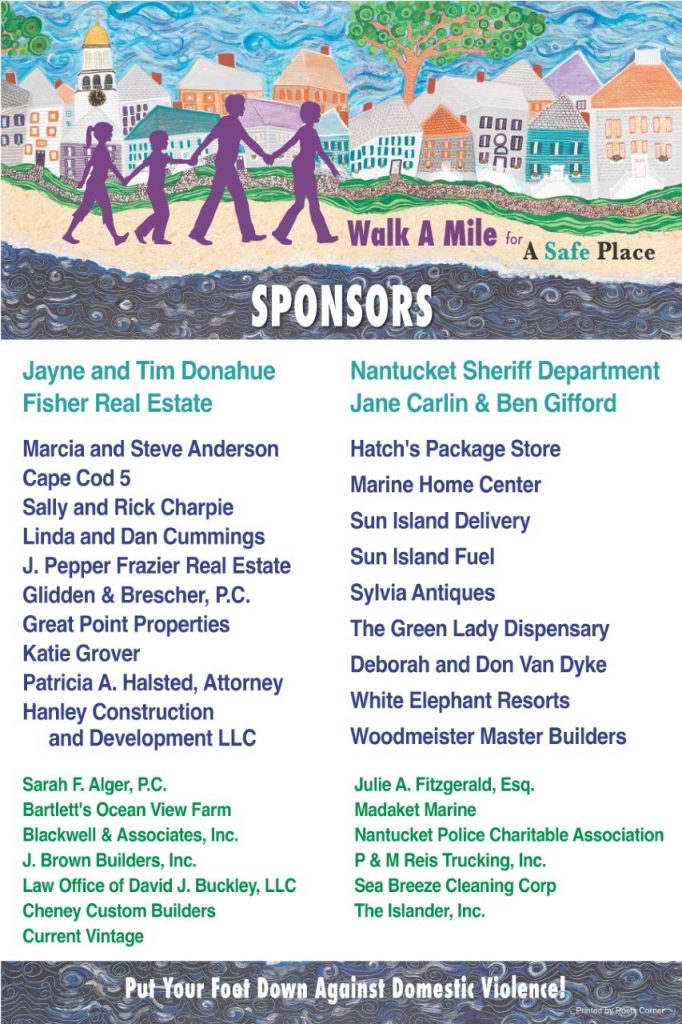 A Safe Place's Shoe Project at the Pacific National Bank during Domestic Violence Awareness Month was very powerful to those that stopped by to read about each victim murdered by a domestic partner in Massachusetts during the last 12 months. Thank you to the Pacific National Bank for hosting this awareness display at the top of Main Street!
During Domestic Violence Awareness Month, A Safe Place's emotionally moving Silent Witness Project was on display at businesses and organizations around the island. Each silhouette represented the life of someone who was a victim of domestic violence homicide and/or provided information about the lasting and traumatic effects of domestic violence. Thank you to the following silhouette hosts: Wicked Island Bakery, Espresso To Go, Nantucket Atheneum, Offshore Animal Hospital, Safe Harbor for Animals, Dan's Pharmacy, Nantucket Police Department, SaltBox Tavern & Table, Old South Market, El Salvadorian Market, Trading Post, and Nantucket High School. 

Kerry Bridges, our Director of Communications & Community Engagement, is moving on to her next adventure. Kerry has been with A Safe Place for a little over 3 years and has worked tirelessly to bring awareness of our agency and services out into the community. She has signed on as a Paralegal with the nonprofit, ChildLaw Services, in Southern West Virginia. We wish her all the best in her next chapter!
~JOB POSTING~  

Director of Communications & Community Engagement
A Safe Place is seeking a Director of Communications & Community Engagement.
The ideal candidate will be passionate about ending domestic violence and sexual
assault and all other forms of oppression. Ideally, they will get along well with others,
have confidence, as well as strong public speaking and public relations skills, and can
maintain a positive social media presence. Graphic design skills a plus. Work hours
are typically during business hours, but some weekend and evening hours required.
A Safe Place is committed to building a diverse and inclusive work environment and
is most interested in finding the best candidate for the job and for the organization.
That candidate may be one who comes from a background less traditional to our
field of work, and that is ok. We encourage all to apply.
Please email cover letter and resume to Jennifer@asafeplacenantucket.org
Mission Statement:
To eliminate domestic violence and sexual assault in the Nantucket community while
empowering every woman, man and child to live a life free from violence.
To learn more about A Safe Place, Inc. please view our website
www.asafeplacenantucket.org