June E-Newsletter

On May 18th, Governor Charlie Baker initiated the first phase of reopening businesses in Massachusetts. A Safe Place's Executive Director, Jennifer Frazee, has been working with state agencies and departments and other organizations to find the safest possible solutions for reopening our office at 5B Windy Way to the public. Our goal is to keep all of our staff and clients safe while providing the multitude of services that we offer in a safe, caring and compassionate way. Be on the lookout for more information in the near future as we begin to expand office services.
A Safe Place is a member of the Supervised Visitation Network (SVN), an organization consisting of over 500 visitation providers worldwide, dedicated to providing safe parental access for families. SVN dedicated May as supervised visitation/monitored exchange month in 2001 to help bring awareness to this important service for families around the world. A Safe Place has been participating for nearly a decade. The purpose of the campaign is to use the symbol of the orange ribbon throughout the month of May to raise awareness about the need and impact of supervised visitation. The color orange is used throughout the month, as it is a bright color which warns people to watch out or take notice. For this reason, SVN has adopted the orange ribbon with the goal that individuals around the world will see the orange ribbon and take notice of the thousands of children and families in need of this important service.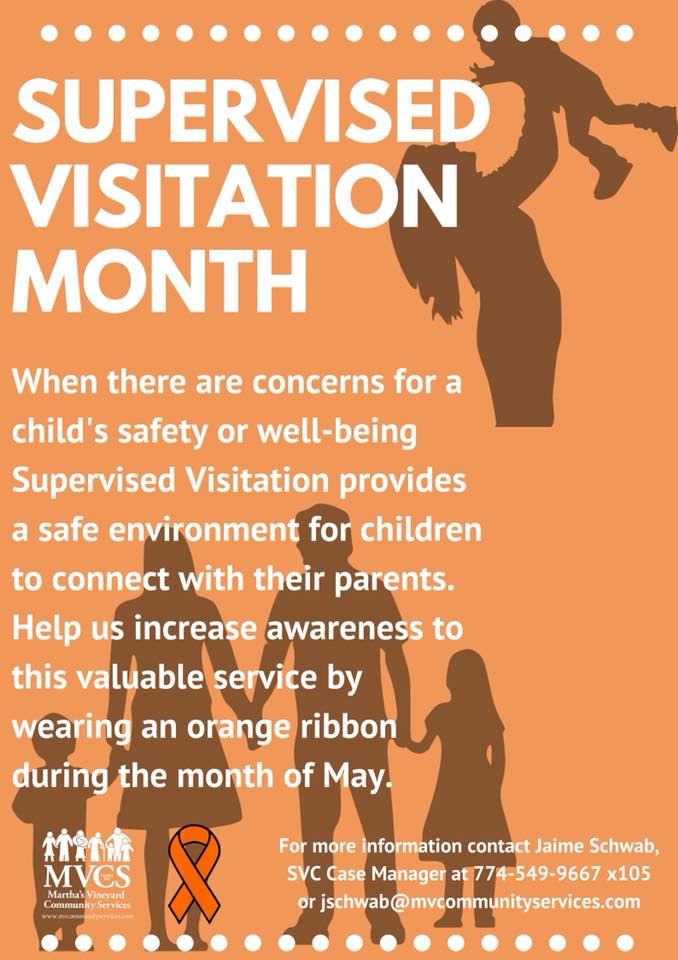 As part of Supervised Visitation Month, A Safe Place joined together with the Nantucket Boys and Girls Club to introduce a Poster Contest on May 20th and 21st via Zoom to demonstrate what children do with their families that make them happy. Here are the winning posters!
For their safety, people are being told to stay home during the COVID-19 pandemic, but that could be a death sentence for anyone in a violent relationship. In the video below, Robin Gill reports on the surge in domestic violence. This is currently happening worldwide including here on Nantucket. According to the New York Times, on Sunday May 24th The United Nations called for urgent action to combat the worldwide surge in domestic violence. "I urge all governments to put women's safety first as they respond to the pandemic," Secretary General António Guterres stated to the assembly. A Safe Place has also had an increase in Beacon calls from the Nantucket Police Department. Staff have worked tirelessly to continue to support all residents and visitors to Nantucket who have experienced domestic violence or sexual assault.

A Safe Place has continued to work closely with the Community Foundation For Nantucket through its Nantucket Fund For Emergency Relief to provide nutritious and delicious meals for clients from The Beet! Since implementation in April, we have been able to provide 761 meals to families in need during the Covid-19 crisis.
A Safe Place Advocates, Frejae Burrows and Crystal McGarvey, screened Hope Springs Eternal starring Mia Rose Frampton for our weekly movie discussion group. Participants were able to watch the movie on Netflix and then joined a Zoom meeting to discuss themes in the movie.
The last PFLAG meeting for the season will be held Wednesday June 3rd at 6:30 PM via Zoom. Advocates from A Safe Place, Alliance for Substance Abuse, The Unitarian Church and Health Imperatives have all been integral participants in bringing this important event to the public. Please join us with our guests, a mother and transgender son, who will talk about their experiences and how communities can help advocate for the LGBTQ+ community.
A Safe Place is proud to announce that we have added a Live Person Chat option to our website! Now survivors and non-offending loves ones will have the ability to chat live with a domestic and sexual violence counselor via our website!