Drea Kelly Is Coming To Nantucket!
A Safe Place is hosting a free community event featuring Drea Kelly, the former wife of R&B singer R. Kelly, who is currently incarcerated after being convicted of multiple counts of sex trafficking last September. Just this week, Kelly was sentenced to 30 years in prison for using his status to subject young fans to systematic sexual abuse.
Drea Kelly speaks of survivorship and empowerment in her speech "Surviving R. Kelly". The event will take place at the Unitarian Universalist Meeting House, 11 Orange Street, Nantucket on Wednesday, July 13th at 7pm. Admission is free to the public on a first come, first served basis. Doors open at 6pm.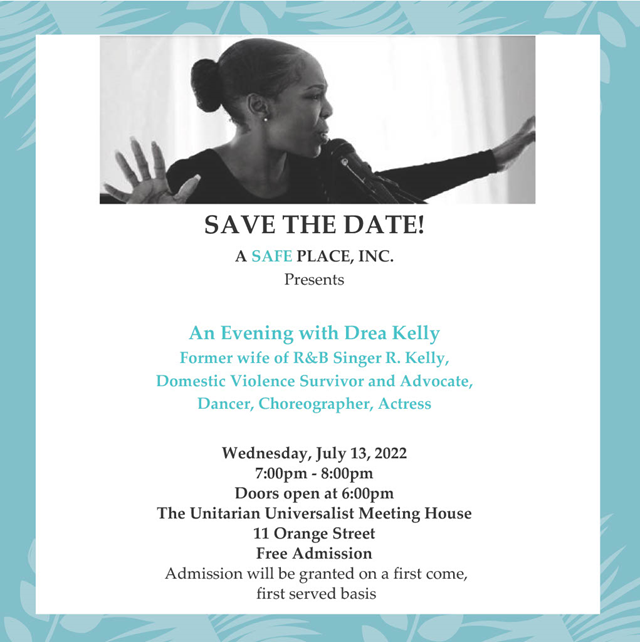 Staff Team Building Day   A Safe Place hosted its 3rd annual Staff Team Building Day on Monday June 27th. The goal of Staff Team Building Day is to foster personal bonding and boost team engagement. Our hard working staff enjoyed a fun-filled day starting with an art class with Leah Jensen Marshall at the Artists Association for Nantucket, where we learned to sketch portraits of one another and painted a beautiful mural together using water color. We continued our day with games, an exciting scavenger hunt that took us through downtown Nantucket, and ended by sharing staff positives with one another. This day was definitely one for the books!





Tips To Help You Stay Safe When Drinking May Be Involved
 
You can take steps to increase your safety in situations where drinking may be involved. These tips can help you feel more safe and may reduce the risk of something happening. 
 
Keep an eye on your friends. If you are going out in a group, plan to arrive together and leave together. If you decide to leave early, let your friends know. If you're at a party, check in with them during the night to see how they're doing. If something doesn't look right, step in. Don't be afraid to let a friend know if something is making you uncomfortable or if you are worried about their safety.
 
Have a backup plan. Sometimes plans change quickly. You might realize it's not safe for you to drive home, or the group you arrived with might decide to go somewhere you don't feel comfortable. Keep the number for a reliable taxi company saved in your phone and on a piece of paper in your wallet and try to have cash on hand. It is also a good idea to download a few different rideshare apps on your phone. Having multiple options helps ensure that you will be able to get a ride home or to a safe location, even if the app you typically use is not functioning. To help keep your phone charged so you can stay in communication with friends or call a ride, consider bringing an external cell phone charger that can be used without an electrical outlet.
 
Know what you're drinking. Don't recognize an ingredient? Use your phone to look it up. Consider avoiding large-batch drinks like punches that may have a deceptively high alcohol content. There is no way to know exactly what was used to create these drinks.
 
Trust your instincts. If you feel unsafe, uncomfortable, or worried for any reason, don't ignore these feelings. Go with your gut. Get somewhere safe and find someone you trust, or call law enforcement.
 
Don't leave a drink unattended. That includes when you use the bathroom, go dancing, or leave to make a phone call. Either take the drink with you or throw it out. Avoid using the same cup to refill your drink.
 
Don't accept drinks from people you don't know or trust. This can be challenging in some settings, like a party or a date. If you choose to accept a drink from someone you've just met, try to go with the person to the bar to order it, watch it being poured, and carry it yourself.
 
Check in with yourself. You might have heard the expression "know your limits." Whether you drink regularly or not, check in with yourself periodically to register how you feel. If you think you have had too much, ask a trusted friend to help you get water or get home safely. Remember, if someone offers you a drink, you can always say no.
 
Be aware of sudden changes in the way your body feels. Do you feel more intoxicated than you are comfortable with? Some drugs are odorless, colorless and/or tasteless, and can be added to your drink without you noticing. If you feel uncomfortable, tell a friend and have them take you to a safe place. If you suspect you or a friend has been drugged, call 911, and tell the healthcare professionals that you suspect you or a friend have been drugged so they can administer the right tests.
 
With the 4th of July holiday coming up we are all ready to have a good time. For many, alcohol can play a big part of that celebrating. Alcohol is the number one date rape drug. There are so many misconceptions about alcohol and sexual assault and our society typically focuses exclusively on whether or not survivors of sexual assault were drinking. Even though we might not consciously think about these myths very much, buying into them can have some very tangible real-world impacts on survivors. 
 
 
MOST IMPORTANTLY, A SAFE PLACE BELIEVES THE BEST WAY NOT TO PERPETRATE SEXUAL ASSAULT IS TO ALWAYS MAKE SURE YOU HAVE EFFECTIVE CONSENT.
 
Do not give others alcohol with the idea that you are going to take advantage of them. Do not give others date rape drugs.
 
Respect people's boundaries and understand that no means no.
 
Also, the lack of the word "no" does not imply consent.
 
A verbal consent is best.
 
 
A Safe Place is here to assist all sexual assault survivors. To speak with someone who is trained to help, our hotline is available 24 hours a day at 508-228-2111 or you can chat online Monday-Friday from 10am-4pm at www.asafeplacenantucket.org  
 
Source: RAINN.org/articles/alcohol-safety

 And Don't Forget!!
 
POP-UP Fridays are happening this summer! Be sure to like our Facebook & follow us on Instagram to find out where we will be "popping up" next. When you see us stop by to say hello and get some swag. We hope to see you soon!.
  




Our Contact Information
A Safe Place
5B Windy Way
Nantucket, MA 02554
508-228-0561
http://www.asafeplacenantucket.org

Unsubscribe | Manage email preferences