On March 6 members of Man Up travelled to the State House in Boston to participate in the 7th Annual Massachusetts White Ribbon Day Campaign events.  They joined over 450 other participants from across Massachusetts – advocates, high school and college students, law enforcement, senators, state representatives and other elected officials – who are committed to putting an end to domestic and sexual violence.
Since 2008 Jane Doe Inc., the Massachusetts Coalition Against Sexual Assault and Domestic Violence, has organized White Ribbon Day as a primary prevention strategy to help end male violence against women.  The white ribbon represents men taking a public pledge to promote healthy masculinity and speak out against all forms of violence against women.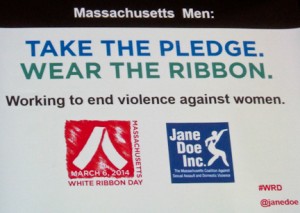 Locally, Man Up Nantucket distributed printed cards with their pledge and white ribbons to several locations so Nantucket men could show their support.
The text of the pledge is:
From this day forward, I will stand up and speak out against gender based violence on Nantucket, and will work with other islanders to break the silence around harassment, domestic violence and sexual assault.
The event in Boston was powerful and invigorating.  The members of Man Up are grateful to have had the opportunity to join so many men working to end violence in their communities.
For more information on Man Up, like them on Facebook where you can keep up to date on all news and activities.