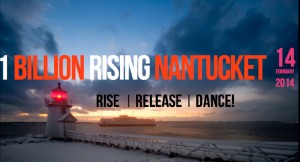 One Billion Rising is a rapidly growing worldwide movement designed to raise awareness about sexual violence, and to call on governments around the world to help bring justice to survivors of gender violence.
At 5p.m on February 14, 2014, Nantucketers will gather in the Nantucket Atheneum courtyard to stand in solidarity with over one billion people in more than 200 countries across the world, who are calling for an end to violence against women and girls. After gathering in the Atheneum courtyard, participants will march together across the street to the Dreamland Theatre to: watch a short video, listen as people rise to speak out against gender violence, and enjoy hot cocoa with fellow islanders.
Please rise with us on February 14.