JOIN US for WALK A MILE IN HER SHOES 2018, the Agency's signature fundraising event on Saturday, June 23rd. This year the entire Nantucket Community is invited to walk up Main Street to   raise awareness of the profound issues of domestic violence and sexual assault on our beautiful island. Men, women and children will walk to promote knowledge and sensitivity of these issues which we are fighting every day. The success of Walk a Mile in Her Shoes means so much to everyone at A Sa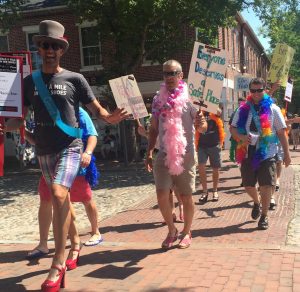 fe Place.  With the community's past support for the past five years, we've been able to raise awareness about sexual violence against women by teaching both men and women how to be "empowered bystanders."  While this day is full of fun, it drives home this important message and is a symbolic gesture for all of us to express empathy for women who everyday face the threat of violence.
Last year over 60 men & boys showed us they could "strut their stuff" in the highest heels.   This year we are inviting women and children to participate in the Walk – with or without high heels
Registration is only $20 and we encourage businesses, clubs and other organizations to form teams and challenge each other for the most funds raised.  Check out our Crowdrise page at:  www.crowdrise.com/WalkaMileinherShoesNantucket2018 and on Facebook @asafeplaceACK
Please join us at Children's Beach Saturday June 23rd 10AM, Rain Date Sunday June 24th.   Hope to see you there!