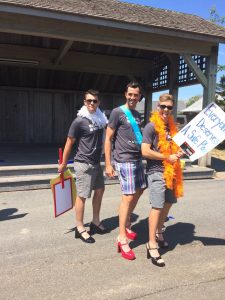 The success of Walk a Mile in Her Shoes means a lot to everyone at A Safe Place. With the support of our wonderful Nantucket community we've been able to host this event for 4 years running.
Walk a Mile is an event like no other. It raises awareness and promotes a reaction to important issues we face on this little island we call home. Last year over 60 men and boys showed us they could strut their stuff in the highest heels! We're talking leopard print, patent leather…you name it!
We ask you, our reader to join A Safe Place, Tommy B as our MC, and the brave men & boys who strut their stuff in their heels, sandals and boots to support survivors of domestic violence and sexual abuse.
Registration is only $20 and we encourage teams from businesses, clubs and other organizations. Check out our Crowdrise page at www.crowdrise.com/WalkaMileinHerShoesNantucket2017 and on Facebook- @walkamileinhershoesnantucket. Hope to see you there!